Virtual Wealth Builder Expo Series
As part of our continued commitment to helping affiliated agents live an exceptional life, we are transforming our successful local Wealth Builder Expos into a new virtual series available to the entire country.
What's Holding You Back? Start Investing in Real Estate Now!
We are proud to announce the launch of our newest Wealth Builder Expo series, "What's Holding You Back? Start Investing in Real Estate Now!" in partnership with our friends at Guaranteed Rate Affinity. Whether you are planning for retirement, saving to send your kids or grandkids to college, or simply looking to earn an additional stream of income, strategic residential real estate investment can help you reach your goals. This exciting three-part series will guide you through developing a real estate investment strategy that is right for you.
UPCOMING SESSIONS:
Naviga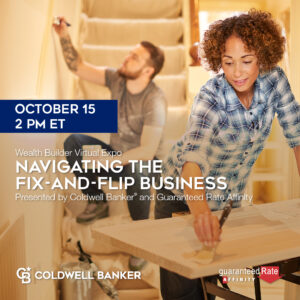 ting the Fix-and-Flip Business | October 15, 2pm ET / 11am PT
What makes a fixer-upper a lucrative opportunity instead of a poor investment? During this session, you will learn why some people make a fortune in the fix-and-flip business, while common mistakes cause others to lose money.
Visit WealthBuilderExpo.com for more information, to attend this event, and to add it to your calendar.
PAST WEALTH BUILDER EXPO SESSIONS: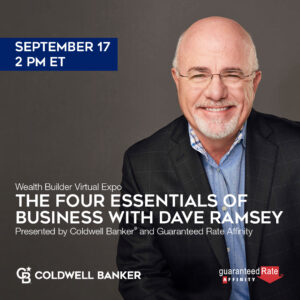 The Four Essentials of Business featuring Dave Ramsey
It takes hustle, heart and a clear plan to succeed in business. During this session, America's trusted voice on money and business, Dave Ramsey, lays out the road map you need to lead like no one else and drive your business forward.
Coldwell Banker agents can find the recording for a limited time on WealthBuilderExpo.com.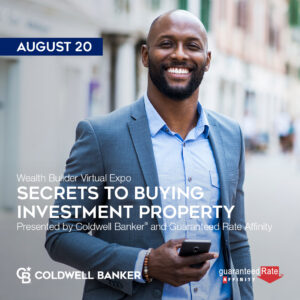 Secrets to Buying Investment Property
You want to invest in residential real estate, but where do you begin? How do you identify the best opportunities and find the financing while mitigating the inherent risks? Chris Mygatt, President of Coldwell Banker Residential Brokerage in Colorado, Meghan Tate of Coldwell Banker Legacy in Albuquerque, NM and Steve Weinraub of Coldwell Banker Realty in Delray Beach, FL share secrets to buying your first (or next) investment property.
You can find the recording and presentation from this event on WealthBuilderExpo.com.
Subscribe to Blue Matter and get the latest updates