Coldwell Banker Takes Home Gold and Silver in Annual Stevie Awards
The brand's 2022 "Dream" ad campaign and 2022 Trend Report recognized for the valuable data used to guide consumers home and help agents reach new levels of success
MADISON, N.J. (May 2, 2023) – Coldwell Banker Real Estate LLC, an Anywhere Real Estate Inc. (NYSE: HOUS) brand, is thrilled to announce that the Coldwell Banker Marketing team has won the Gold Stevie Award in the Marketing Campaign of the Year – Real Estate category in the 2023 American Business Awards for its 2022 "Dream" advertising campaign! Additionally, the team has also won the Silver Stevie Award in the Communications or PR Campaign of the Year – Corporate Communications category for the Coldwell Banker Global Luxury 2022 Trend Report.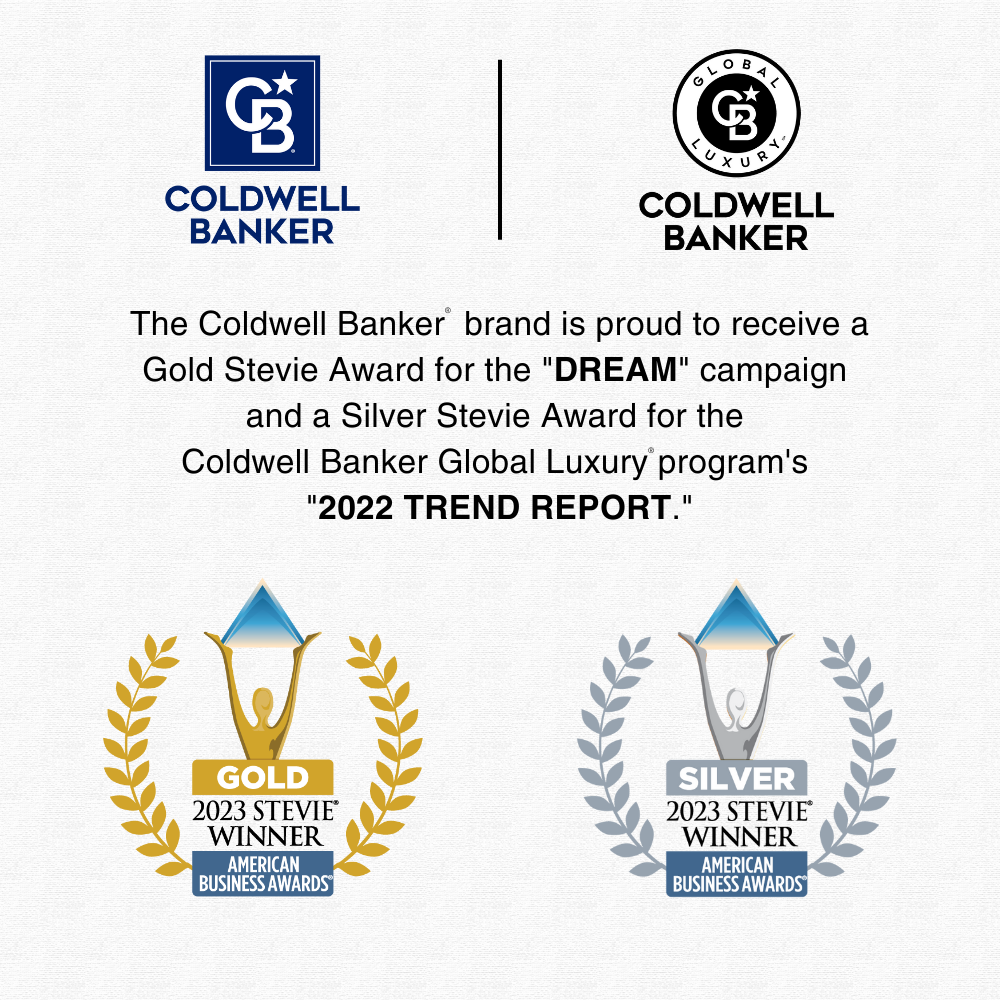 To give consumers a greater understanding of their selling options, empower them to sell and realize how much purchasing power they have for their dream property, Coldwell Banker designed the 2022 Seller Strategy. The strategy included the one-of-a-kind "Dream" ad campaign, created in partnership with advertising agency Siltanen and Partners, and promoted a refreshed Coldwell Banker website featuring the CB Estimate℠, Move Meter℠ and the Seller's Assurance Program — all designed to help sellers find their dream home.
During a time in which negative articles about the real estate market were dominating the media, the team seized the opportunity to explore how wealthy Americans feel about today's market and reframe the narrative. Alongside the Coldwell Banker Global Luxury 2022 Trend Report, the brand commissioned Censuswide to conduct a luxury consumer survey among 2,000+ U.S.-based high-net-worth individuals to explore how the wealthy are spending their money and the top trends driving today's luxury real estate market.
The American Business Awards are the world's premier business awards developed to recognize and generate public awareness of excellence in the workplace. More than 3,700 nominations were submitted for consideration this year.
The Coldwell Banker brand's national advertising has been the #1 rated real estate ad for 11 years in a row by ACE Metrix. The team adds these two recent awards to the Coldwell Banker trophy case alongside our other Stevie award, Emmy, MarCom, SABRE and Reggie awards to name a few.
QUOTES:
"Strong marketing and public relations campaigns showcase the dedication and commitment Coldwell Banker has to guiding consumers through changing market conditions and providing agents with the resources and data to continue to inform their clients. It's very gratifying to see our hard work recognized among almost 4,000 entries in this year's Stevie Awards! I am incredibly proud of the entire team for their hard work, creativity and for ensuring that Coldwell Banker continues to shine like no other."
David Marine, CMO of Coldwell Banker Real Estate LLC
Subscribe to Blue Matter and get the latest updates