New Construction and Developments Heat Up in South Florida
SHARE South Florida's real estate market continues to see a slow but steady recovery during the current coronavirus pandemic that changed the way day-to-day real estate business nationwide is conducted, from showing properties to prospective buyers, to the closing process and more. Even in the midst of the pandemic, Coldwell Banker agents continue to pivot […]
South Florida's real estate market continues to see a slow but steady recovery during the current coronavirus pandemic that changed the way day-to-day real estate business nationwide is conducted, from showing properties to prospective buyers, to the closing process and more. Even in the midst of the pandemic, Coldwell Banker agents continue to pivot and excel in this unprecedented time in real estate history, with pending sales showing an increase year-over-year, according to a recent article in The Miami Herald featuring Coldwell Banker Realty in Florida's Regional Vice President, Nancy Klock Corey. Along with resale home listings, new home construction and planned residential developments are still moving forward throughout South Florida, with many of them exclusively listed and marketed by a Coldwell Banker-affiliated agent.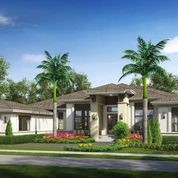 The Sklar Team and The Thomson Team and are the exclusive sales and marketing team for Zona West, a boutique community consisting of 12 modern and artfully designed luxury residences developed by Centurion LG, a progressive real-estate development firm focused on the creation of sophisticated, residential communities throughout South Florida. The four model homes offer 3,700 to over 6,500 square-feet (under AC) of pristine living, starting at $1,600,000. Soaring ceilings, chef quality appliances, designer lighting, marble floors, sunlight flooded living spaces and the finest finishes punctuate the luxurious homes. The homesites are thoughtfully designed with landscape beauty and outdoor living in mind.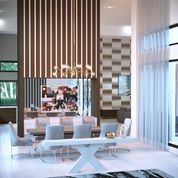 "The community offers a rare opportunity for prospective buyers to own a well-crafted and impeccably designed home located close to the desirable South Florida metro areas. The community offers Zona West was developed to ensure residents experience the life of luxury and the warmth of an exclusive community," said Rose Sklar.
"The intimate community affords homeowners with a peaceful setting provided by a beautiful landscape and open space. The luxe residences, designer finishes and tranquil environment provide the perfect escape from the bustle of the city, which is just a short drive away," said Jennifer Thomson.
In Harbor Beach, a private beach club community with some of the most valuable real estate in Fort Lauderdale, the Gilles Rais Fine Home Team are the exclusive listing representatives of newly constructed 2481 Del Lago Drive.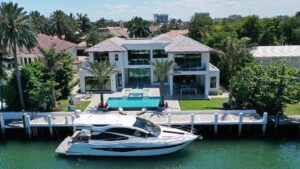 Designed by renowned architect Randall Stofft, the home marries a modern aesthetic with organic finishes, producing a unique property that exudes elegance and warmth. A floating porcelain staircase punctuates the luxurious living of the home. The expansive 8,273-square-foot under air estate boasts six-bedrooms, eight full bathrooms and two half-bathrooms and features a lavish master suite with dual master baths and closets plus private waterfront balconies. This fully furnished estate provides extraordinary amenities, including a spacious clubroom with luxuriously appointed wet bar, elevator, state-of-the-art home 7-seat theater, 560 bottle walk-in temperature-controlled wine room and an indoor pet grooming area. The chef inspired kitchen includes high-end Miele & Wolf appliances and custom cabinetry.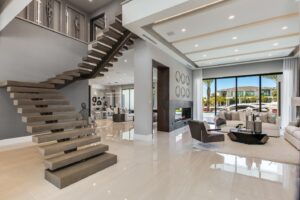 "This home has been masterfully designed and appointed to ensure the new homeowner can move in immediately and enjoy the gorgeous lifestyle in Fort Lauderdale. For those looking for the peace of mind that comes with the highest level of quality new construction, a fully appointed home with numerous amenities and room to spread out, this estate has everything needed to provide a dream waterfront life," said Gilles Rais.
If you're looking for, or thinking about listing a home in South Florida or any other part of the country, contact a Coldwell Banker agent today for the best in client service and care.
Subscribe to Blue Matter and get the latest updates