Slideshow: 10 Beautiful Vacation Homes
SHARE There is no better season, in my opinion, to getaway than during the winter months. Although I've lived on the east coast my whole life, I still cannot get acclimated to the cold, wind, snow, and gray skies. That's why in the summer, even before winter arrives, I'm planning my escape. I find that […]
There is no better season, in my opinion, to getaway than during the winter months. Although I've lived on the east coast my whole life, I still cannot get acclimated to the cold, wind, snow, and gray skies. That's why in the summer, even before winter arrives, I'm planning my escape. I find that a lot of destinations are relatively empty compared to if you travel in the summer, which is a plus. So in the spirit of traveling and holiday vacations, we've come up with some awesome vacation homes and destinations that will hopefully inspire but might just make you sulk!
For those who like to escape to cold, snowy destinations: 
1. A Remarkable Custom Home in Aspen, CO 
A remarkable custom home sited on one of the most private lots in Aspen. You also, aren't more than minutes away from the most incredible ski/snowboard slopes in the country.
2. A Private Estate with Unparalleled Views in Aspen, CO
Recently featured in the Wall Street Journal, this spectacular legacy estate has stunning views of Aspen and all of its surrounding peaks. Described as "a grand European country house", this unique property features luxurious finishes and sophisticated spaces.
3. A Luxurious Log Cabin in Granby, CO
No need to fight over space in this huge 5 bedroom/5 bathroom, 8,000 square foot home!
4. A Colorful Two- Story in Orono, MN
This family retreat has exquisite details and finishes throughout.
5. A Picturesque Dream Home in Bountiful, UT
There isn't much this outstanding home doesn't feature.
For those, like me, who like to escape to warm, sunny destinations:
6. Regal Living in Nassau, Bahamas

Benefits of owning this home include: membership access to the 18-hole golf course and numerous amenities and facilities at the Atlantis Resort and One & Only Ocean Club including Jean-Georges Vongerichten's cuisine, Versailles-inspired gardens, private spa treatment villas and tennis courts at the members Beach Club located inside the Ocean Club Estates Community. Sounds great to me!
7. Vacation in a Luxury Villa, Tortola, British Virgin Islands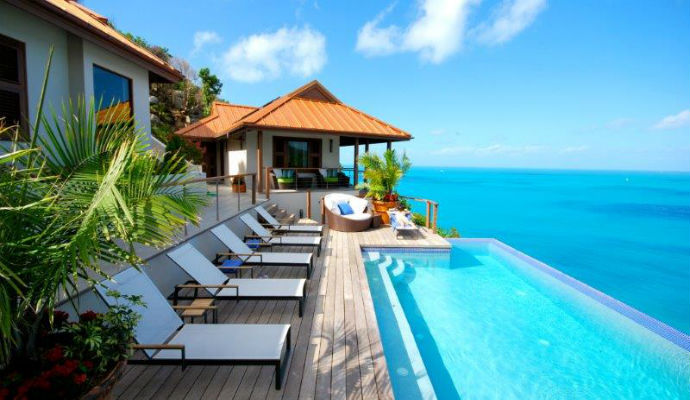 This modern villa is minimalist in style with clean lines and vibrant art deco colors of lime, blue and orange, combining modern furniture with an exquisite Indonesian tree-house layout. And all set within beautifully manicured, lush tropical gardens.
8. A Private Beach Front Villa in Runaway Bay, Jamaica 
Nestled on a quiet, private road this amazing beach front villa provides laid back luxury and privacy on one of the best beaches in Jamaica. A private cabana in the front courtyard is perfect for reading, an early morning cup of coffee, afternoon tea or a relaxing massage.
9. A Mountaintop Retreat with Pacific Ocean Views in Cabo San Lucas, Mexico 
This fabulous Cabo marina and Pacific Ocean views home offers 4 bedrooms and 4.5 bathrooms, gourmet kitchen with granite counter tops, living and dining areas, TV room, pool, Jacuzzi, 3 car garage, big garden and large terraces, everything with an exceptional Mexican-contemporary design and fine finishes. Magnificent spiral staircase takes you down to a family area and the rest of the bedrooms, each one with its own terrace and incredible views.
10. A Beachfront Condo in Providenciales, Turks & Caicos
This extraordinary two bedroom condo features beachfront living with multiple terraces, one off the living room and one off the master bedroom, which is also a lock-out suite.
Subscribe to Blue Matter and get the latest updates