Learn To Say YES
This post is part of Coldwell Banker's Women in Leadership Series. We've been sharing the unique, uplifting and trailblazing stories of women leaders throughout the Coldwell Banker Network, and larger family.
This is a contributor post by Lori Arnold, broker/owner of Coldwell Banker Apex, Realtors
A few months ago, I had the privilege of speaking to the latest class of Ascend Leadership Summit participants at the Realogy headquarters in New Jersey. It's always an inspirational opportunity for me as the new leaders are so excited about their careers and what the future holds for each of them. As much as I love my home state of Texas, I also LOVE New York City.  Anytime I can get close to NYC, I am going to find an excuse to spend a few days there. I arranged a long weekend in NYC before going to the Realogy headquarters with my daughter-in-law, who happens to be our Marketing Director, and my sister-in-law, who happens to be a mortgage superstar.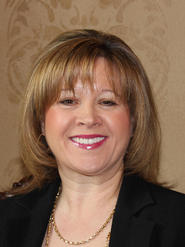 To add a bit of context, I have to share a few things that led up to the Ascend Leadership Summit. About a year, some of my fellow CB owners pointed out that my company was the largest woman owned and operated Coldwell Banker affiliate in the US based on closed sales. And for the record, they were all guys. Frankly, I had never given much thought to that fact before that day.  To say I am passionate about my business and leading my agents is a bit of an understatement for anyone who knows me. I am busy each day building something that I hope matters to those around me and contributing in a way that leaves a legacy. I am highly competitive and want to win in my market simply because I know we are the best so thinking from only a "women's perspective" never occurred to me. Once we began sharing the fact that Coldwell Banker Apex is the #1 woman owned and operated CB in the US, I felt a calling to do more for women in our community to hopefully inspire and motivate them in their own personal journey. A quarterly meeting for area real estate professionals called "Listings & Life With Lori" was born from that idea. For the first time in my career, the idea of women leading and supporting each other was really on my mind.
On our NYC girls' trip, we were shopping in a stationery shop in Grand Central Station when I saw a "big green button" novelty item that had the word "YES" written on it.  You pressed the YES button, and it audibly shouted "YES!". I began chatting with a sales person about the YES button, and she went on to tell me that they had NO buttons too, but those sold out immediately, while the YES buttons were slow sellers.
Oh my. My mind immediately went to the true-life application of that lesson. Why would the NO buttons sell out fast while the YES buttons lingered on the shelf? One of the principles of the Coldwell Banker Apex leadership staff is that we try to say YES! as often as we can.  Can I market my team this way? YES! Can you assist me in getting this tool set up? YES! I want to think a little outside the box and implement this new marketing idea. Can I do it? YES!  I know I did not follow the process, but I need this today, can you help me? YES! Although it sounds intuitive, it really is not. It's much easier to say "No, you can only do it this way" or "No, you need to follow the system."  No stifles originality, new thinking and progress towards goals we have not yet set!
As I reflected on YES, I realized how important that one little word has been in my real estate journey.  I got my license at 19 years old. Often people thought my clients were the Realtor instead of me! I could have said, "No, I am too young to succeed in real estate." In 1993, when we joined Coldwell Banker, I did not have the funds to purchase the franchise without borrowing it. I could have said, "No, it's just too much risk to commit to a franchise when I don't even have the money to get started," but instead I said YES! When Coldwell Banker assigned me an incredible mentor to guide me and he shared ideas of what I needed to do, I could have said "No, I can't do that idea." Honestly, I was so afraid to implement many of the ideas he suggested. At that time, I truly loved and excelled at selling real estate, but only in a one-on-one setting. The idea of speaking up in public was way out of my comfort zone. I was so timid that I would not even share about my new listings at the local MLS meetings. Those that know me now do not believe that story, but it is the truth. I ignored my fears and just did what my mentor told me to do. I said YES! When we wanted to grow, and it was time to open another office from scratch, as a start up, I said YES! I had no idea how to open a successful office and really didn't even realize how risky start up offices were and how many start up offices fail to launch. I said, "Yes, let's do it!"  We've now opened 11 start up offices, with plans of opening more in the future.
We often say NO to the things we should say YES to while saying YES to things we should say NO. We say YES to things we feel obligated to do and NO to the things that would drive our goals forward. The question becomes, what should we say YES to?
Say YES to things that you fear but you believe are important for your growth. You don't know what you can accomplish until you say YES. You have no idea how much capability you have until you say YES.
Say YES to mentors. Mentors are a HUGE component in growth. A good mentor will challenge you and hold you accountable. They will inspire you. Find a mentor and say YES to what they tell you to do.
Say YES to learning from others. Anyone. Not just those you feel are ahead of you in the journey but anyone. Being open to learning exposes you to growth you don't even know is possible, while learning from those who are behind you on the journey keeps your ego in check. They do know more than you in lots of areas that matter.
Say YES to a big dream. Chances are, you are not dreaming NEARLY big enough. I know I didn't. But if you say YES when you are scared (revisit #1 if you need to!), your dreams will grow as fast as you grow.
Say YES to giving back. That is why I went to New York City in the first place. So many people in the Coldwell Banker system have given to me. They have invested in my life and my company. I need to say YES to giving back every time I can.
Today, we have 15 offices with 650 of the most talented, successful, kind, warm human beings that work together as a team at Coldwell Banker Apex.  Truly remarkable, inspirational people who work collaboratively in an industry that sometimes is filled with ego and drama instead of collaboration. I look around at this group, and I am truly amazed at the blessings that have come my way through these people. As I look back from where I am at today, I wonder what would have happened if I said NO, and I am so grateful I said YES. Now, I need to buy that YES button!
If you're a part of the Coldwell Banker network and interested in listening to the next Women in Leadership call, be sure to visit CB Exchange and search "Women in leadership" to find out the details. To find out more about how Coldwell Banker can be the place that supports you and your business, visit CBWomen.com.
Subscribe to Blue Matter and get the latest updates