Coldwell Banker COO Liz Gehringer Named to HousingWire's Women of Influence
Jamie Duran president of Coldwell Banker Residential Brokerage in Southern California also honored
Congratulations to our very own Chief Operating Officer Liz Gehringer for being named to the 2019 class of Women of Influence by HousingWire!
The Women of Influence program recognizes the outstanding efforts of women nationwide who are driving the U.S. housing market forward. Now in its ninth year, the selection process continues to grow more and more competitive.
At Coldwell Banker, Liz Gehringer has put her passion for relational leadership into effect with her "world tour." She has spent the last several months listening to the Coldwell Banker network and asking questions. Her unique, one-to-one leadership style has resulted in a deep understanding of the needs of franchisees, strong relationships forged in a short amount of time and built on a foundation of trust. She is using that understanding to drive the ingenuity of the brand, identifying places where the brand can begin to do things differently and for the right reasons.
Liz is passionate about empowering people to Leave Their Mark in the world of real estate. One of the ways she is doing that is as the executive sponsor of the Coldwell Banker #CBWomen initiative, where she is working to elevate female voices within the network and champion the brand's next generation of female leaders. Liz is committed to ensuring that more and more women at Coldwell Banker see a path to leadership and have the tools and training to realize their professional dreams.
Under Liz's leadership, there has also been an increase in the visibility of the Coldwell Banker Commercial brand. Its position in the industry has been elevated and continues to expand, creating new areas of growth. Liz was also recognized for her work in helping guide our brand through Project North Star – our first major rebrand in 40 years – through the strong relationships and trust she's build with the network.
Before joining Coldwell Banker in September 2018, Liz served as chief ethics & compliance officer at Realogy Holdings Corp., the parent company of Coldwell Banker Real Estate. During her tenure with Realogy, Liz built an ethics and compliance program that received global recognition, with Ethisphere Institute honoring Realogy as one of the World's Most Ethical Companies® for seven consecutive years. This is an award that reflects the principles of Realogy, mirrors the values on which the Coldwell Banker brand was built and represents a tradition of operating ethically that has continued since she joined the Coldwell Banker team. Her combination of operational, franchise and legal experience, as well as her proven ability to build a world-class program from the ground-up, uniquely positions her as a top industry leader.
Liz's leadership is seen far beyond the boardroom. The New Jersey Business Journal named her to their Forty Under 40 list of business leaders. Liz was also named a NACD Fellow, which is the gold-standard credential for directors and C-level executives.
Liz's leadership philosophy is to make sure that people connect and cooperate. She believes leaders must build a foundation of trust through listening, and by listening she has gained a deep understanding of the needs of franchisees and forged strong relationships with agents and companies in the network. She has worked hard to foster this culture at Coldwell Banker, and our vast network of 92,000 agents and brokers has taken notice.
Jamie Duran, president of Coldwell Banker Residential Brokerage in Southern California, was also recognized as part of the 2019 class of Women of Influence by HousingWire. Jamie was honored for her strong leadership and success in growing the number of agents and overall market share in Southern California, where she oversees more than 70 offices and 5,000 affiliated agents. Among her many achievements has been aligning the entire region under the Coldwell Banker Residential Brokerage's Core 4 Values program. Earlier this year, Jamie earned a coveted spot on the 2019 Swanepoel list of the Top 200 Most Powerful People in Residential Real Estate.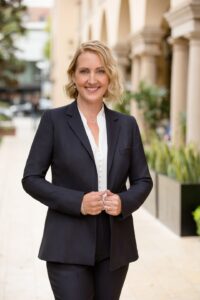 Congratulations to Liz and Jamie on this well-deserved recognition!
To find out more about how Coldwell Banker can be the place that supports you and your business, visit CBwomen.com.
Subscribe to Blue Matter and get the latest updates