COLDWELL BANKER REAL ESTATE NAMES MICHAEL ALTNEU VICE PRESIDENT OF GLOBAL LUXURY PROGRAM
The Coldwell Banker Global Luxury program welcomes a new vice president of luxury
MADISON, N.J. (July 26, 2021) – Coldwell Banker Real Estate LLC today announced Michael Altneu as its vice president of the Coldwell Banker Global Luxury program. Altneu joins the Coldwell Banker brand with an impressive 15 years of experience spanning across nearly every facet of the real estate industry.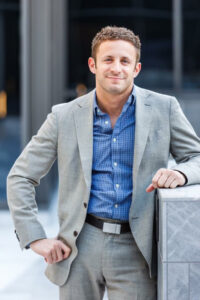 In this role, Altneu will report to David Marine, chief marketing officer for Coldwell Banker Real Estate and lead one of the industry's largest global networks of luxury real estate agents across 2,900 offices in 40 countries and territories. The Coldwell Banker Global Luxury program, which traces its roots to 1933, encompasses a best-in-class marketing platform and one of the most rigorous luxury specialist certification programs in the world, with a 36% higher average sales price per property listed with the program.
"Michael comes to Coldwell Banker with a unique blend of industry knowledge, existing relationships with key luxury leaders, global insight and strong presentation skills. The strength and quality of Michael's connections and background will elevate our industry-leading program to even greater heights," noted Marine.
Altneu has experience working in many areas of the industry, including new development, technology, brokerage, design and development, public relations and creative. He has collaborated with dozens of top agents, both domestically and internationally, including key Coldwell Banker Global Luxury leaders and agents. He has an impressive track record of driving growth through an innovative formulation of brand portfolio global expansion plans and exemplary recruitment from his time with Douglas Elliman, DBOX creative agency and most recently with REALM Global. He also served as co-creative director for Madison Avenue Creative.
"I have long admired Coldwell Banker and their high standard of service to the agents and clients they serve. The Coldwell Banker Global Luxury program is one of the most powerful competitive differentiators in the industry and it is an absolute honor to step in to oversee it and fuel further growth around the globe." – Michael Altneu
About Coldwell Banker Global Luxury®  
The Coldwell Banker Global Luxury® program legacy traces its roots to 1933 and has been a world leader in luxury real estate since. Coldwell Banker Global Luxury Property Specialists are an exclusive group within the Coldwell Banker organization, making up under ten percent of independent sales associates affiliated with the brand worldwide. Coldwell Banker affiliated agents conducted 32,663 transactions of homes priced at $1 million or more in 2020. This equates to $168.4 million in luxury sales every day (+16.6% YOY) with an average sales price of $1.9 million in this category. Coldwell Banker, the Coldwell Banker logo Coldwell Banker Global Luxury and the Coldwell Banker Global Luxury logo are registered marks owned by Coldwell Banker Real Estate LLC. Coldwell Banker Realty is owned by a subsidiary of Realogy Holdings Corp. (NYSE: RLGY), the largest full-service residential real estate services company in the United States. For more information, please visit ColdwellBankerLuxury.com.
# # #
Subscribe to Blue Matter and get the latest updates