How (And Why) to Upgrade to Smart Blinds
Everything you need to know about smart blinds!
By Jennifer Tuohy
Two of the most important elements of a home are natural lighting and comfort. We all want a home that is well-lit and comfortable, whether the sun is blazing outside or we're in the depths of winter. A reliable way to balance great natural light and interior comfort is with the right type of blinds or shades. Window coverings help welcome light when you want it and keep it at bay when you don't. But with great natural lighting comes a lot of windows, and adjusting those blinds and shades to accommodate the ever-shifting sun can become a full-time job!
Enter "smart blinds," the window coverings that take the chore out of opening and closing your blinds or shades by doing it for you. Motorized, cordless blinds that you control with a remote have been around for some time, and are excellent for convenience and safety. Plus, no dangling cords for kids or pets to get tangled in! But the advent of smart home technology has turned what was a neat feature into a smart home must-have. Smart blinds can now anticipate when your blinds should be open or closed to help enhance security, comfort and save you money on energy bills.
Some great features of smart blinds include:
Being able to raise or lower blinds individually or as a group at set times
Raising or lowering the blinds automatically when certain conditions are met, such as sunrise or sunset
Incorporating solar/temperature sensing so they lower when the sun gets too hot and raise when the room is cool but it's warm outside
Using a smartphone app to control the blinds from anywhere you have an internet connection
Using your voice to open and close your blinds
Letting geo-fencing open your blinds when you arrive and close when you leave
Integrating with other smart home devices to do things such as turn all the lights off when the shades rise or open when a smart smoke detector senses fire so emergency responders can see inside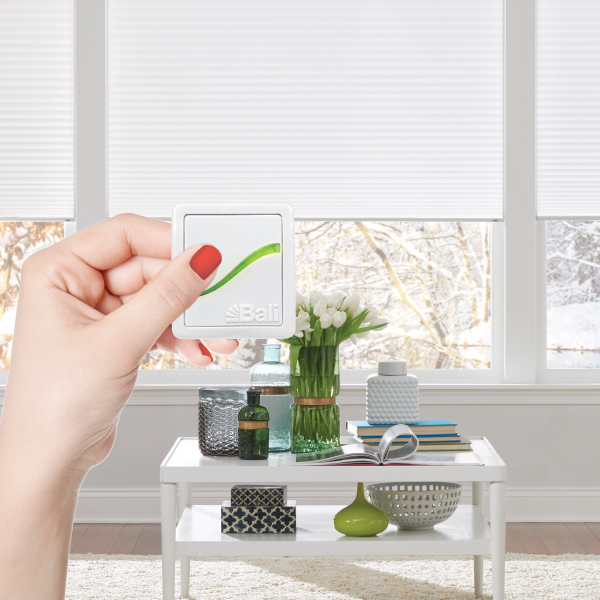 There are two types of smart blinds: retrofit options—devices that will automate your existing blinds—and all-in-one smart motorized shades and blinds. Currently, most of the retrofit options are very limited in the type of shades and blinds they can automate. If you are looking to outfit your home with smart blinds, you may want to go with a custom option from one of the well-known brands who will come and install them throughout your home. Here's a look at the types of smart blinds on offer, along with the type of smart home integrations and features each offers to help you find the best fit for your needs.
Bali
Bali has partnered with Somfy, an industry leader in motorization, to power its smart blinds. It offers the widest range of styles for motorized lift and motorized tilt blinds:
Motorized Lift: Cellular shades, classic Roman shades, layered shades, natural shades, pleated shades, roller shades, sheer shades, solar shades
Motorized tilt: Fabric blinds, faux wood blinds, horizontal blinds, wood blinds
The smart part of these blinds and shades comes with the addition of a ZRTSI II Home Automation module that will connect your blinds to any existing Z-Wave powered smart home system. This device acts as a bridge between motorized Bali Blinds and Z-Wave home automation systems, such as Wink and SmartThings. Once you have the systems installed, you can control your blinds via your smartphone while you're away from home. You can set your blinds to automatically tilt while simultaneously dimming your connected lights, or have them open as you arrive home and close when you leave using geo-fencing technology.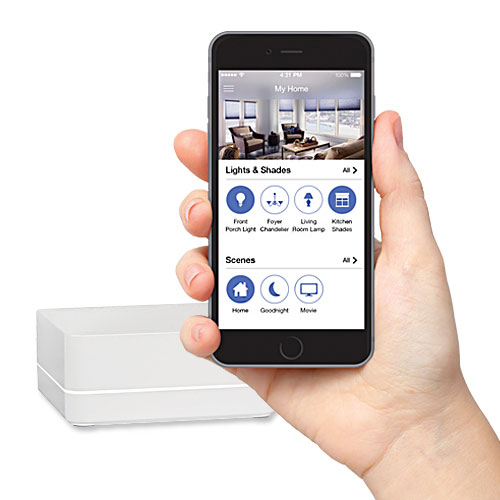 Serena Shades by Lutron
Serena offers roller and honeycomb style shades and boasts the widest integration with existing home automation systems. This makes them a great option if you already invested in some of these technologies. Once the motorized blinds are installed, you simply need a Lutron Caseta Smart Bridge to connect the shades wirelessly to the rest of your smart home and control your shades with the free smartphone app from wherever you are.
Serena shades are the only smart shades that are compatible with Apple's smart home platform Homekit. This means you can use Siri to control your shades with your voice, as well as control and monitor them from your phone, iPad and even your Apple Watch.
Some of the other things you can do include:
Scheduling your shades and compatible lights to adjust automatically based on the time of day
Creating "scenes" that adjust multiple lights and shades with one touch and turn on geofencing to automatically lower or raise your shades and turn lights on or off when you leave or approach your house
Integrate with your smart thermostats to lower or raise automatically based on the time of day to help your HVAC system work less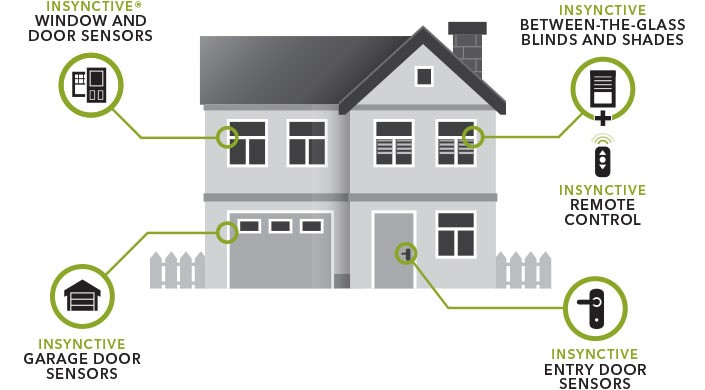 Pella
If you are looking for between-the-glass smart shades or blinds, Pella offers a seriously smart product that integrates with its own smart home line Pella Insynctive. Insynctive also offers security sensors for windows, doors and garage doors that integrate with your blinds. With the purchase of a Pella Bridge, the system will also work with most of the major Z-Wave compatible home automation systems such as Wink, Nexia and Savant to give you greater control and let your Pella devices work with your smart lighting, smart thermostat and other smart home devices.
Hunter Douglas
All the products mentioned so far offer more ways to control your blinds by adding a separate smart home system to your home. Hunter Douglas' PowerView system offers shades that are smart all by themselves. This means you don't need any bridge or compatible Z-Wave smart home hub to make them work.
Instead, using the free app on your smartphone or tablet or Hunter Douglas' Pebble controller, you can create and schedule customized room "scenes" that allow your shades to operate on their own throughout the day. Each scene offers different combinations of each shade in the room that can be adjusted to the exact position you want at different times of the day based on your light, privacy and overall room ambiance preferences. You can create timed schedules and link your shades to local sunrise and sunset times, and control them remotely from anywhere with an internet connection using your smartphone.
Additionally, Hunter Douglas PowerView shades will work with Z-Wave smart home systems such as Wink and Control 4 without the need for an additional bridge. Plus, they integrate with IFTTT, a free internet service that lets you create your own "Applets" to do things like automatically close your shades when it's hot outside, run a scene when the room temperature rises or falls and even operate your shades with voice control.
No matter which style or brand you choose, smart blinds save you the trouble of opening and closing your shades multiple times a day, so you can optimize your home's energy efficiency with little effort.
An award-winning journalist, Jennifer Tuohy has 15 years' experience in newspapers, magazines, marketing and online content. She writes on a variety of subjects, but her passion lies with technology, sustainability and the intersection of the two. Jennifer began her career at London's Daily Telegraph and has written for a number of lifestyle publications and newspapers. For more information on smart blinds, visit HomeDepot.com.
Subscribe to Blue Matter and get the latest updates