Welcome to Coldwell Banker: Ingle Safari Realty brings a 'mom and pop' culture to the Gen Blue family
This post is part of a series, profiling new offices in the Coldwell Banker network
Founded in 2011 by Robbie Ingle and Steve Floyd, Ingle Safari Realty has been among the top offices in Lake Charles, Louisiana every year since its inception, growing to over 80 agents in five offices. "We rocketed to the top of our market," said broker/owner Steve Floyd.
Though Ingle Safari, now Coldwell Banker Ingle Safari, has grown beyond Lake Charles to become a trusted name in the other Louisiana markets, they retain a deep bond with their local community. "There's an image of life in the south, where everyone knows everyone's name," Floyd described. "Though Lake Charles is definitely growing, we still have this small-town feel."
Coldwell Banker Ingle Safari agents are in homecoming parades, work booths at local fairs and cheer on friends' children at high school football games. Even during the weekend, many agents can be found spending their free time with clients; because clients are often lifelong friends. "A lot of people are born and raised here," broker/owner Robbie Ingle said. "It's a small enough community where you'll often hear, 'my dad went to school with yours, my uncle knows your mom.'"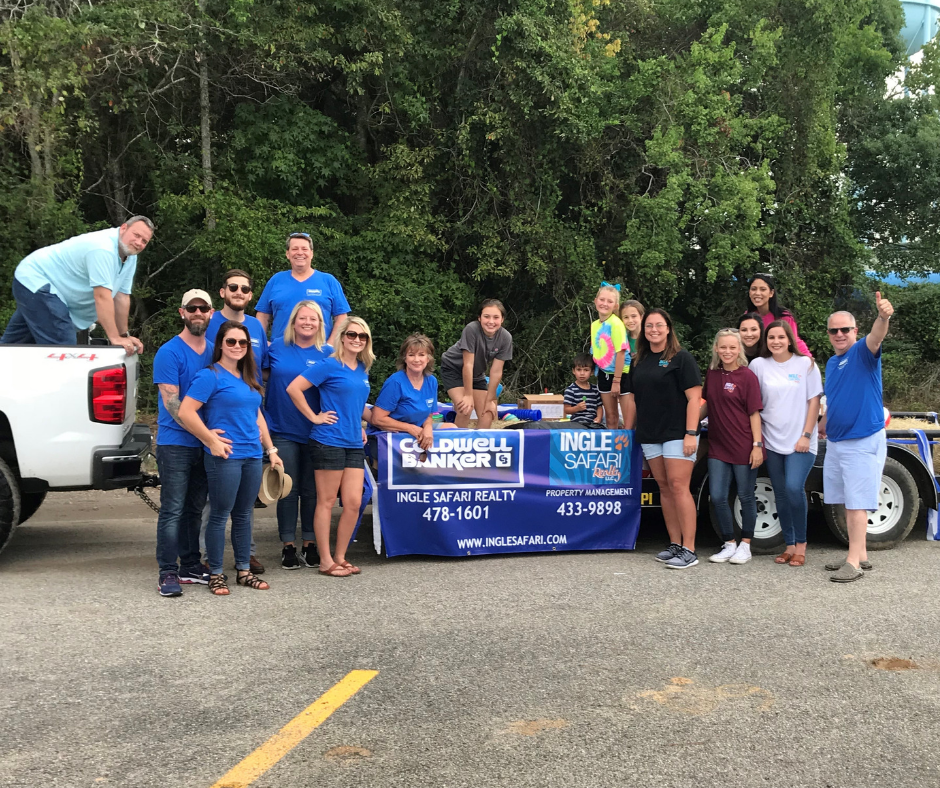 This sense of community can also be found within the office, where agents act as a support network for one another. "In a time of need, our entire office pulls together," Floyd said. He described an instance where an agent needed surgery. "She was a single mother, diagnosed with cancer," Floyd said. "We set up a meal train, and people in our office provided daily meals for her family."
The office also comes together in times of celebration, whether it is a holiday gift exchange at a local Cajun-Creole restaurant, or a potluck lunch where everyone prepares a favorite side dish. "Everyone really has a heart of gold," Ingle said. "We are still very much a 'mom and pop' business, with a strong sense of family."
Reaching New Heights with Coldwell Banker
Coldwell Banker Ingle Safari agents are thrilled to become part of the Gen Blue network. "It was after a lot of consideration that we decided to join Coldwell Banker," Floyd said. "It couldn't have been a better decision."
For agents, the chance to further their reputation for excellence with the aid of new tools and resources is an exciting prospect. "As an independent brokerage, there was a technology gap we needed to fill," Ingle said. "Agents would say, 'we need a better listing program, we need more and better leads, and we need pre-made fliers.' Whenever we've gone to the home office of Coldwell Banker and asked, 'do you have this,' the answer has always been, 'yes!'"
Offerings such as the CBx Listing Experience, Zap® and Coldwell Banker eMarketing are quickly becoming staples, transforming how agents source leads and create marketing materials. "Agents are so excited to have these new tools at their fingertips," Floyd said.
A Perfect Match
By joining the Gen Blue network, Coldwell Banker Ingle Safari Realty completes an essential formula for real estate success—a brokerage with deep roots in their local community, now amplified with the resources of an international franchise. We welcome Coldwell Banker Ingle Safari Realty to our Gen Blue family, and look forward to showing them the power of Blue!
——–If you would like to know more about what Coldwell Banker agents have access to, head to coldwellbanker.com/join and explore the possibilities of moving your business to Coldwell Banker.
Subscribe to Blue Matter and get the latest updates