Coldwell Banker Around the World: September 2021
Nestled beneath an endless backdrop of the Sierra Madre mountains in Jalisco, Mexico is Puerto Vallarta. Travel through the charming neighborhoods and beautiful beaches, browse eclectic shops, indulge in cuisine, and wander the malecón (boardwalk).
The following guest post was co-written by, Jordan Craig, Global Account Manager, and Kaitlin McMurdo, Global Servicing Director, for Coldwell Banker Real Estate LLC.
Nestled beneath an endless backdrop of the Sierra Madre mountains in Jalisco, Mexico is Puerto Vallarta (or just "Vallarta"), full of charming neighborhoods and beautiful beaches, which makes it an enticing coastal destination visited by millions each year to experience the loveliness, browse the eclectic shops, indulge in cuisine, and wander the malecón (boardwalk). What is now a tropical getaway used to be a small fishing town that only knew dirt roads, where horses were the primary mode of transportation. That changed in the 1960s when Hollywood came to town. Exotic and alluring Vallarta was introduced to the world as the setting for the "Night of the Iguana" film. With this production, the idyllic city was put on the map.
Twenty years later in 1984, Brock G. Squire, Broker/Owner of Coldwell Banker La Costa arrived in Vallarta. "There has barely been a day that I don't remind myself of how incredibly fortunate I have been to be able to work, play and raise a family in this amazingly beautiful and secure little town of Puerto Vallarta," Squire said.
Days can be spent engaged in plenty of activities such as boat trips, horseback rides, diving trips, ziplining, lounging on one of the many breath-taking beaches, swimming in the freshwater rivers, hiking through the Sierra Madre mountain trails, and day trips to the small ranch towns. Nights can take on a new identity amid the booming nightlife along the cobblestone streets. Sound like the place for you? You're not alone!
"Thousands of people are rethinking what they want their future to look like. More and more are buying a one-way ticket to Puerto Vallarta to get a healthy shot of Vitamin Sea, sandy beaches, and blue water. Out of all the other tropical destinations along Latitude 22, Vallarta offers the most diverse and affordable real estate in the western hemisphere. If you are thinking about expanding your vision to include ocean, tropics, jungle, sun, culture, relaxed lifestyle, and paradise… think Coldwell Banker La Costa," Dean Robbins, Sales Manager states.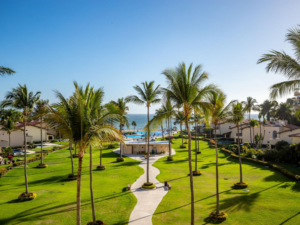 Where do you live: Puerto Vallarta, Jalisco, Mexico
What is the perfect weekend day like: Your perfect weekend starts off by waking up to the relaxing sounds of the ocean. You drink your morning cup of Joe on the balcony overlooking the bay. You head out shortly after, going on one of Vallarta's most breathtaking and relatively quick hikes from Boca de Tomatlán to Colomitos, a hidden, rejuvenating beach where fresh coconuts are served. After your morning hike, head over to the Versalles area, eat at one of the ever-so-popular brunch spots. From there, head out to your favorite beach (locals would most likely recommend Conchas Chinas) where you'll spend the day under the sun, leaving just in time to catch the dramatic sunset that looks more like a painting than real life. After touching base at home, you head downtown for dinner. Perhaps, you continue the night with a few drinks at one of the lively bars on the famous Malecón, looking out at the stars sparkling brightly along the crisp waters.
What are the common modes of transportation there: There are numerous means of transportation for getting around Puerto Vallarta. Though cars are a huge part of the transportation culture here, it is not uncommon to see folks walking or biking, especially in the downtown areas. Puerto Vallarta is a walkable city, with the Malecon stretching about 4 miles, bordering the old-town and the beaches. Motorcycles, Taxi and Bus transportation are also popular modes of transportation. Buses are an excellent and affordable way to maneuver around this tropical city…as is UBER!
Tell us about the foods your area is known for: Puerto Vallarta's gastronomic experience is simply one of a kind. Because Puerto Vallarta is a fishing town, the seafood is perhaps some of the freshest in the world, and with that being said, seafood is very prevalent here. From ceviche tostadas to fresh fish filets al gusto, aguachiles, and decadent sashimi, there is simply no seafood that Vallarta does not offer. Aside from seafood, some classic Puerto Vallarta cuisine consists of street tacos such as tacos al pastor, carnitas, and barbacoa as well as some very high-end, stunning restaurant experiences.
What is your favorite meal? At home or at a restaurant: It is almost impossible to have a favorite meal in Puerto Vallarta. With so many different flavors and dishes, there is simply too much to choose from. However, a favorite meal might be egg and nopal (cactus) tacos at Chamberry Taco Stand near the airport, or Chilaquiles Rojos at Miscelenea Café in Versalles, a chile relleno at Café de Olla in the Romantic Zone, or a Filete de Res at the vernable Café de Artistes.
Where do you recommend someone vacation in your region, why: Though there are too many incredible areas to choose from, Conchas Chinas on the South Side or Punta Mita all the way up to the North Point of the Bay never disappoint. While Conchas Chinas is only a 5-minute drive to the action of the Romantic Zone (Puerto Vallarta's downtown area), it also offers privacy and a calm atmosphere, whether you're vacationing in the hills of Conchas Chinas or in one of the luxury beachfront villas. Punta Mita is farther up the coast, about 40 minutes from the airport and removed from the action of Puerto Vallarta, though offers visitors an extremely exclusive and luxurious experience featuring world-class golf, a Four Seasons Resort, and a St Regis Resort as well.
What is your favorite recreational or leisure time activity: Puerto Vallarta is all about leisure! From Golf, tennis, and watersports such as surfing and water-skiing, to deep-sea fishing and hiking, there is simply no recreational activity that Puerto Vallarta doesn't offer!
Is there a specialty your area is known for: Puerto Vallarta is known not only for its hospitality and incredible service but for its Raicilla, the local liquor made exclusively in the Sierra Madre mountains. You can find a bunch of Raicillerias tucked into the bar scene of Puerto Vallarta, such as La Lulu in Versalles. There is also panela cheese, a staple of Puerto Vallarta cuisine, that is made in the ranch town of El Tuito in Jalisco, which is about a 45-minute drive South from Puerto Vallarta.
Share a little known but interesting fact about the area/region: Before the name Puerto Vallarta was granted on May 31st, 1918, in memory of Don Ignacio L. Vallarta, the Governor of the state of Jalisco, this area was called Puerto Las Peñas. Puerto translates to port and peñas translates to mountains, referring to the geographic texture of the area, where the mountainous jungle meets the clear water of the Bahia de Banderas.
If you were to live in any other region where we have a Coldwell Banker presence, where would it be and why: If not here in the beautiful tropical paradise of Puerto Vallarta, I would live in the ever-so-bustling and adventurous cities of either Mexico City or Paris. Obviously, always with a vacation home in Puerto Vallarta.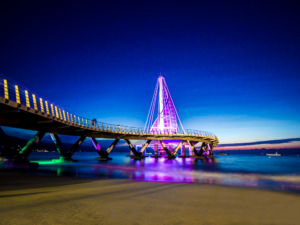 Territory Summary:
Puerto Vallarta is located on the Pacific Coast of Mexico in the State of Jalisco and rests in the large horseshoe bay, Bahía de Banderas. The bay of Banderas stretches down South from Boca de Tomatlán, Jalisco all the way up North to Punta de Mita, Nayarit. Puerto Vallarta is 2 meters above sea level, and the same latitude as Hawaii, making for a warm and tropical climate 365 days a year.
Where the jungle meets the sea, Puerto Vallarta is full of charming neighborhoods and beautiful beaches that are nestled beneath the stunning and endless backdrop of the Sierra Madre mountains.
Puerto Vallarta is a tourist destination, meaning that locals rely on tourism just as the city itself does. Home to the affluent and not so affluent, Puerto Vallarta welcomes folks from all economic backgrounds. Before the 1950s, Puerto Vallarta was a small fishing town with dirt roads where horseback was the only means of transportation. This all changed when Engineer Guillermo Wulff flew in from Mexico City and not only fell in love with the town but with its potential. Wulff introduced Director John Huston to Vallarta and he decided that this would be the location for the Night of the Iguana film. With this production and the world following the love story of Richard Burton and Elizabeth Taylor (all of whom owned properties here), Puerto Vallarta was put on the map of tropical destinations amongst the rich and famous. What was once a secret gem has now become a tropical destination that is visited by millions of people yearly.
Key Facts:
Population: 530,078 (permanent)
Language(s) Spoken: Spanish and English
Climate: Tropical
Currency: Mexican Peso and US Dollar
Industry Facts:
Types of Architecture: Spanish Colonial and West Coast Mexican Contemporary
Average Sale price: A range from $200/sq. ft to $800/sq. ft
Average years in house/apt: New-25 years old
Types of Financing: Limited financing available at higher rates of interest than the US, depending on residency/residency status/nationality.
Something else interesting: Non-national buyers are obliged to hold property in perpetual trust, the trust exists forever. Permits are required from the department of foreign affairs every 50 years.
Facebook: https://www.facebook.com/Real.Estate.Puerto.Vallarta.CBLaCosta
Twitter: https://twitter.com/CBLaCosta
Instagram: @coldwellbankerlacosta_ or https://www.instagram.com/coldwellbankerlacosta_/
LinkedIn: https://www.linkedin.com/company/coldwell-banker-la-costa
Subscribe to Blue Matter and get the latest updates