Get Thanksgiving Holiday Prep Started Early
Whether you'll be hosting a family get-together or celebrating with friends, start planning now to ensure a stress- and disaster-free Turkey day.
Guest post by Michelle Lee, Houzz
It's time to pack up those spooky Halloween decorations and transition your home for the next fall holiday. Whether you'll be hosting a family get-together or celebrating with friends, start planning now to ensure a stress- and disaster-free Turkey day. Here's how to organize your party supplies and details for a beautiful feast this year.
Finalize Your Guest List
First things first, sit down with your friends and family to make a final decision on who you'll be inviting over this year. Make and mail invitations now so your guests will have enough time to coordinate their own plans and get back with a timely RSVP.
Make a Menu or Hire a Caterer
Jot down recipes, shopping lists and cooking schedules today if you're planning to make a home-cooked favorite or two this year. You'll want to stock up on ingredients before your local grocery store sells out. If you're not very kitchen-savvy, begin browsing local caterers' menus before the best get booked.
While you're at it, be sure to clear space in your pantry and fridge to hold the bounty of food before cooking day. If you have extra time, your oven and cookware supplies could probably use a nice cleaning.
Do a Walk-Through of Your Home
It's important that you take your time as you pass through every room. Make note of anything unsightly that your guests might notice and take the next couple of weeks to fix scuffed paint spots, flickering lights or fraying furniture. Clear the coat closet and entryway, spruce up your post-feast lounging areas and prep guests rooms or kids' areas as needed. Also take a good look at your dining space as you move on to the next tip.
Decide What You'll Need to Rent or Buy
Can your dining room accommodate one long table for everyone or will you have to split up into two areas? Do you have enough chairs and table settings? Gather your own entertaining supplies and see if you can make-do or if you'll need to buy or rent extras for this holiday season.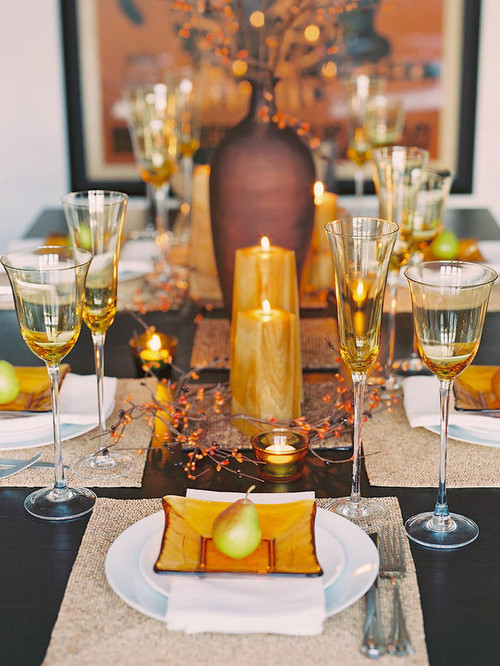 Plan Out Your Table(s)
This step is a bit early, but you can start visualizing the table or sketch it out on paper. Start planning an ideal seating chart, so couples aren't awkwardly separated and family feuds aren't reignited. You can make changes as RSVPs arrive.
Consider what your statement centerpiece will be this year as well as how you'll be coordinating the plate settings and name cards to match. If you're going with a nature-themed piece, it's best to wait to order flowers now to prevent early wilting, but make sure to reserve one ahead of time with a local florist.
Start Decorating!
This is the most fun step of all and you can really let your style shine in any way you desire. Choose a general theme for the home and shop for matching decorations. Make sure you add some of this season's classics, such as warm candles along the mantel or an inviting fall wreath on the front door.
Related Links:
Subscribe to Blue Matter and get the latest updates