Lindsay Listanski Named a Business Elite "40 Under 40" Winner
Coldwell Banker Realty National Vice President of Field Marketing recognized for her determination and dedication to shaping the world of business
MADISON, N.J. (January 6, 2023) – Coldwell Banker Real Estate LLC, an Anywhere Real Estate Inc. (NYSE: HOUS) brand, is thrilled to announce that Coldwell Banker National Vice President of Field Marketing Lindsay Listanski has been named one of Business Elite's "40 Under 40" winners. The "40 Under 40" is a prestigious award program that identifies outstanding young business leaders with the confidence, determination and ambition to shape the world of business over the coming decades.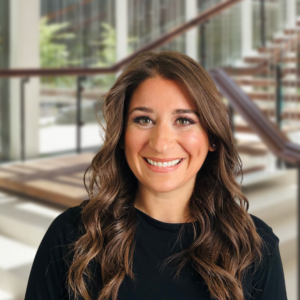 Over the past 12 years, Listanski has been a driving force behind Coldwell Banker marketing, media, public relations and communications strategies. Currently she leads a team of 150 field marketers who support the brand's local operations in 32 major markets. Listanski is responsible for driving the success of the marketing team supporting residential, luxury and commercial real estate agents by helping them build their business with the industry-leading marketing programs and suite of products that the brand offers.
In 2022, Listanski's team reinvented the Coldwell Banker agent servicing model with a first-to-market product called Next Available Appointment (NAA). With NAA, agents can now schedule marketing support in a virtual environment by choosing from a pool of over 100+ specialists for faster and better support. Since its launch, NAA has significantly enhanced the brand's agent value proposition by improving the speed and quality of service delivered through the virtual appointment setting.
Listanski also serves on the teams responsible for significant brand milestones, including earning the #1 rated ad in real estate for 10 years, raising $1M+ for St Jude Children's hospital and partnering with Adopt-A-Pet to find homes for tens of thousands of adoptable animals.
This recognition of Listanski's hard work, growth and dedication is the latest of her accolades, as she has been named a PR News Mover and Shaker, RISMedia Change Maker and one of the top 20 most influential people in real estate on Stefan Swanepoel's annual Power200 list.
QUOTES:
"Congratulations to Lindsay! I am proud to see that she continues to be recognized for her incredible talent, her endless support for agents and her dedication to the Coldwell Banker brand. She has been a leading light behind many Coldwell Banker marketing initiatives, including the recent launch of Next Available Appointment. I'm excited to see how she shapes the industry in the years to come."
David Marine, CMO, Coldwell Banker Real Estate LLC
Subscribe to Blue Matter and get the latest updates