Outdoor Living in Your Backyard
Four incredible outdoor living spaces that take backyards to the next level
Spending time outside has been proven to be beneficial for our health. Whether you live in a part of the country with year-round warmth or experience all four seasons – finding time to relax and decompress with the sun (and some SPF) on your skin is important for our well-being. And what could be better than being able to relax in the comfort of your own home?
For this blog, we're showcasing four incredible Coldwell Banker properties across the United States that define the meaning of a backyard oasis. From swanky bars to stone fireplaces, to waterfront and nature views, these listings have it all and then some.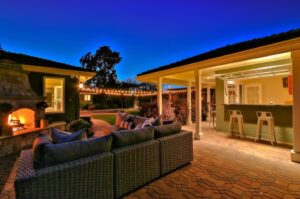 1141 Ruth Drive, San Jose, CA
$3,250,000
Remodeled from ground-up in 2012, this San Jose ranch boasts high-end finishes throughout including teak wood floors and custom cabinetry, but the real jaw-dropping feature is the private outdoor space. It's fully equipped with a heated pool, permitted guest house (which can also serve as a cabana for the pool), fireplace and a bar with pop-up windows, fridge, sink and ice maker.
"Having a luxurious outdoor space during these uncertain times may help provide clarity. It is a nice outlet to get out of the house, breathe and unplug from technology." – Ashley Carroll, listing agent.
Listed by Ashley Carroll of Coldwell Banker Realty in California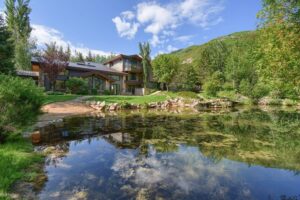 2680 Aspen Springs Drive, Park City, UT
$4,990,000
This gated 13.6-acre property on a 6,900-foot elevation mountain town is complete with streams, ponds and plethora of awe-inspiring scenic views. The front of the house also provides a retreat-like setting perfect for doing yoga or meditating while being soothed by the sounds of a waterfall. The home boasts nearly 11,000 square feet of living space and a six-car detached garage with raised roof which can be turned into a basketball or pickleball court.
Listed by Marny Schlopy and Kevin Crockett, Coldwell Banker Residential Brokerage in Utah
2605 Pearce Road, Austin, TX
$3,900,000
Nestled on a quiet street, this Italian Renaissance waterfront home has multiple levels of outdoor living that are perfect for a little R&R. Situated on Lake Austin, the home offers lakefront views and a private lagoon where water lovers can unwind by paddle-boarding, kayaking, or exploring the lake by boat. And if you prefer to reach your Zen on land, this oasis offers plenty of options as well. Another unique feature is the outdoor kitchen with a gas grill, dishwasher, island, and beautifully stained cabinets.
So whether you're taking the boat out at sunset, tying a hammock between the fruit and palm trees for a little siesta, or dining al fresco, this place offers a sense of calm all around.
Listed by Foreman Property Group of Coldwell Banker Realty Texas
2730 Woolsey Lane, Woodland, MN
$3,995,000
Just 12-miles outside of Minneapolis, the home offers tranquility and privacy in a park-like setting with lakefront views. With over 4 acres of land and 500 feet of lakeshore, you can get your daily dose of fresh air on a morning stroll right in your own backyard, while being surrounded by the beauty of mature trees and lush landscaping. The property also includes a swimming pool, grilling area, several outdoor seating options and a fireplace.
"The benefit of this space is the ability to achieve your own oasis. One does not need to own a cabin to escape to; you can enjoy that escape right within your own home, and yet not leave all of the amenities of a metropolitan area." – Ellen DeHaven, listing agent
Listed by Ellen DeHaven of Coldwell Banker Realty in Minnesota and Wisconsin
Subscribe to Blue Matter and get the latest updates