Home Theater Renaissance
With movie theaters closing across the country due to social distancing, here are a few Hollywood worthy home theaters from Coldwell Banker listings.
With movie theaters closing across the country due to social distancing, home theaters are now more enticing than ever. More time with family means greater opportunities to enjoy the latest streaming movies and more in the comfort of your own abode. And why not watch in style? These properties throughout the United States, listed by Coldwell Banker, offer home theaters worthy of a Hollywood premiere!
2400 Fox Street
Orono, Minn.
$4,295,000
This absolutely stunning recreation of a Belle Époque theater experience, inside and out, is complete with a Moulin Rogue box office, a hint of a Parisian street and a classic candlelit cinema. The inside of the theater contains eight oversized theater seats, five counter seats, candy display cases, and a stage in front of the screen for live performances, be it karaoke or the can-can!
"The homeowners had a vision for what they wanted their home to be, including the lower level with French influences, from the courtyard with benches, to the theater with Moulin Rouge accents. They love Europe and wanted to tie that in when designing their home," said listing agent Jeffrey Dewing.
"Having a theater is beneficial as it's a wonderful place to congregate with your family. Most, if not all, are spending all their time at home right now so it's a great gathering place and substitute since we can't be going to theaters," he added.
Listed by Jeffrey Dewing of Coldwell Banker Realty in Wayzata
23 Elden Drive
Saddle River, N.J.
$5,888,000
"This theater was specially designed to not only look elegant; most importantly, the owners wanted it to be functional," said listing agent Joshua Baris. They succeeded on both accounts.
The centerpiece of the theater's striking décor is its medallion, upholstered with a pleated technique and set in a coffered ceiling built with custom-milled woodwork. Suspended from the medallion is a dupioni silk light fixture with a jewel pendant. The walls are upholstered in ruby-hued fabric. Warm lighting emanates from wall sconces, and the leather seating is raised on an underlit platform.
As for functionality, the leather seats and oversized couches are easy to maintain should, for example, children hop out of the nearby heated swimming pool and plunge directly onto the comfy seating to watch a flick or play video games on the 10-by-5-foot screen.
"During this time when families are quarantined at home, where better to spend family time than watching your favorite movies in the comfort of a warm and cozy home theater?" said Baris.
Listed by Joshua Baris of Coldwell Banker Realty in Fort Lee
802 Druid Road S.
Clearwater, Fla.
$12,900,000
This grand and private estate in Clearwater's historic Harbor Oaks neighborhood has no shortage of recreational opportunities: a fitness center, grand ballroom, lighted tennis courts, two pools and a 60-foot covered dock among them. But on rainy days or when you just feel like kicking back, the home theater – completely renovated in 2017 – pulls the curtains back on a golden era cinematic experience. Highlights of this home theater include custom millwork, reclining leather sofas, multicolor LED ambient lighting, and a whole-home surround sound system with more than 65 speakers for total audio immersion.
"With streaming services readily available, and some movie studios doing early releases of recent films, now is a great time to have a home theater," said co-listing agent Jennifer Zales.
Co-listing agent Martha Thorn added, "In this time with the closing of movie theaters and more, families are staying together and playing together. Therefore, having a theater room provides family entertainment without leaving home."
Listed by The Thorn Collection (led by Martha Thorn) of Coldwell Banker Realty Belleair & The Beaches and Jennifer Zales of Coldwell Banker Realty of Tampa Westshore
164 Munroe Hill Road
Carlisle, Mass.
$1,355,000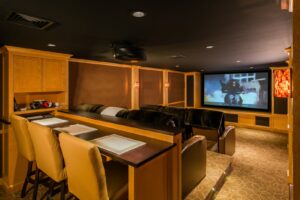 "The homeowners didn't set out to build a theater, but it became their favorite room in the house," said co-listing agent Amy Pasley. What started as a rectangular, blank canvas turned into a space where the residents spent much quality time over the years enjoying weekly "Family Movie Night," playing video games and even meditating while playing soothing music over the theater's pro-engineered sound system. The theater is soundproofed with acoustic-designed fabric walls; tech lighting and LED floor light to create the full cinematic ambiance. Handcrafted bird's eye maple in installed throughout the theater: the trim, moldings, pilasters, cabinets and mahogany-toped bar/counter space. There is computer integration on the 10-foot screen, allowing large-scale web browsing. Every piece of equipment in the theater is purposefully easy to operate and top-of-the-line. Amenities include six motorized reclining chairs, three additional high seats at the counter and an adjacent kitchenette (perfect for stocking with candy and making popcorn). For more active indoor activity, the home also has a game room.
"During this time of social distancing and national caution, indoor entertainment spaces are proving a desirable amenity," said Pasley. They can also create cherished family memories; in fact, this property's sellers plan to recreate the home theater in their new house!
Listed by Brigitte Senkler, Amy Pasley and Peggy Dowcett of Coldwell Banker Residential Brokerage Concord – 11 Main Street
Subscribe to Blue Matter and get the latest updates