Coldwell Banker Aids Colleagues in the Aftermath of Hurricane Ian
Amid the devastation caused by Hurricane Ian, the safety and well-being of our Florida-based employees, brokers and agents have been top of mind at Coldwell Banker, and we are dedicated to supporting our team members during this difficult time.
Several communities throughout the state have already been declared Federal Disaster Areas, so it is expected that residents will continue to face significant hardship in the foreseeable future.
As we continue to check in with our Coldwell Banker operations and affiliates in the impacted areas to ensure their safety, we aim to provide support for these communities through a variety of initiatives.
Coldwell Banker Relief Efforts
Coldwell Banker agents, brokers, owners and executives from across Florida and the United States have been pitching in to provide support and resources to those affected.
Whether it be sharing resources on social media for information before, during and after the storm, helping with cleanup efforts or raising money, below are some ways the Gen Blue network is going above and beyond.
Outside Florida
Schmidt Family of Companies created a Go Fund Me campaign to raise money to assist Coldwell Banker Sunstar agents and employees in the Sarasota and Charlotte Counties.
At Coldwell Banker Sea Coast Advantage in Wilmington, North Carolina, CEO Tim Milam has led an effort to support those affected by the disaster by pledging both a personal donation and one on behalf of the company. Dr. Ralph Huff, owner of Coldwell Banker Advantage in Fayetteville, North Carolina is also making a personal donation and spreading the word to his network.
The Coldwell Banker network is strong, especially in times of need. Gregory Brozowski, an agent with Coldwell Banker Realty in Mendham, NJ, worried for his father-in-law who was alone in Boca Grande, FL, an area slammed by Hurricane Ian. Upon submitting a social media request for someone to check in on Gregory's father-in-law, Aubrey Crow, a realtor from Coldwell Banker Realty's North Tampa Bay office, drove over one hour to check in on him and deliver water and supplies.
Northwest Florida
Northwest Florida Senior Regional Vice President Denis McKinnon and agent Nick Brown collected supplies this week and drove them down from Panama City to Fort Myers on Thursday.
Photo caption: Denis McKinnon (left) and Nick Brown (right) drove supplies to impacted areas
Central Florida
Agent Omar Cotto, who served in the Florida Army National Guard for 18 years and was deployed to locations such as Afghanistan, Iraq, Kuwait and Qatar, is no stranger to lending a hand! Based out of the Coldwell Banker Winter Springs office, he left his own family on September 25 – three days before Ian hit – to deploy with the National Guard to the Gulf coast. He is currently assisting in the North Port area of Florida, one of the worst areas for flooding in Charlotte County. He and his team have been working almost nonstop, providing support to local residents, performing security missions, aiding points of distribution and aiding local municipalities and law enforcement agencies.
Photo caption: Omar Cotto and additional members of the Florida Army National Guard aiding Hurricane Ian relief efforts
Southwest Florida
The Dawn McKenna Group – based in Chicago and with a team in Naples – took immediate action upon hearing about the devastation in Naples and the surrounding area. Dawn and her husband rented a truck in Chicago, went to Home Depot and Costco and bought generators, water, bleach, shop vacs, propane and power washers. Her husband then drove the supply-filled truck the roughly 1,300 miles down to Naples to help.
In addition, the Dawn McKenna Group announced a food and supply drive benefitting local charities St. Matthew's House and the Humane Society of Naples via social media.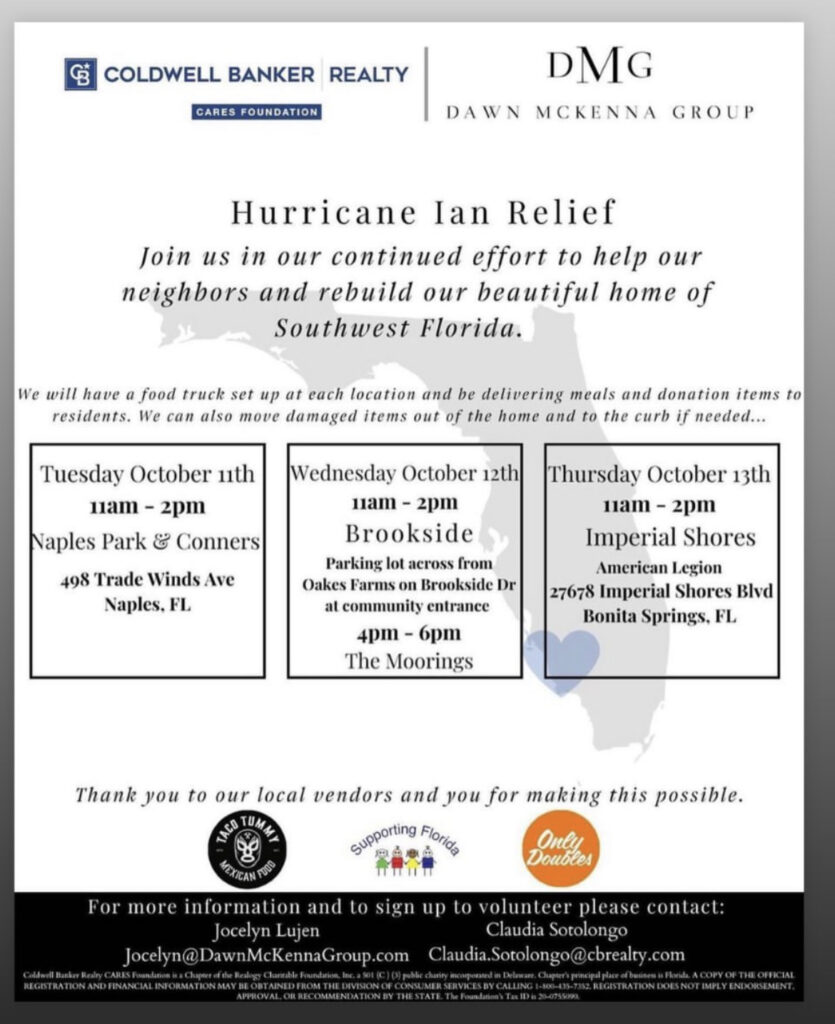 Photo caption: Dawn McKenna shared the following post across her social media accounts
Two Coldwell Banker Naples branch offices partnered on Wednesday, October 5, to assist with a community clean up at the Brookside subdivision in south Naples. Brookside is a 500+ home community of mostly retirees, veterans and long-time residents that flooded during the storm. Now that the water has receded, these homes needed clean-up. Approximately 65 agents brought supplies, including a BBQ to serve fresh meals, and helped residents with trash removal, lawn clean up and general cleaning efforts. There was also an information booth to assist with FEMA applications and insurance information. The effort was largely organized by Bill Pilger, broker of Naples Central, and his assistant manager, Nick Kharlamov.
This region also created an agent survey to assess individual needs and have volunteer work crews in each geographic area ready to assist agents and staff, as well as the communities they serve. Each Coldwell Banker office in the affected Southwest Florida region is serving as a drop-off site for donations and the supplies have already started coming in from across the state. They have also started a Go Fund Me page for an employee in the region who lost her home and is a single mother. It reached $4,600 in the first 24 hours it launched!
Southeast Florida
Agent Paula Pompa from Plantation, Florida, crossed the state to volunteer in Fort Myers and just returned home Wednesday night. Jobs they performed included removing drywall damaged by four feet of water and debris removal.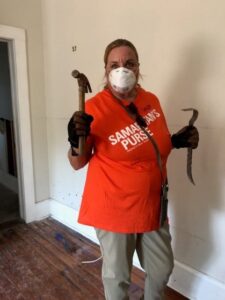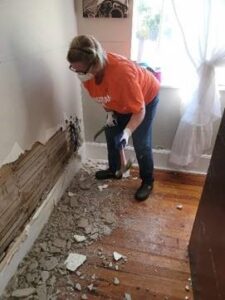 Photo caption: Paula Pompa helps remove drywall damaged by water in Hurricane Ian
Debra McMillen, managing broker of the Coldwell Banker Belleair & The Beaches Office, hosted an event October 5 which encouraged attendees to donate to the relief fund.
How to Support
If you wish to donate to anyone impact by Hurricane Ian, you can donate directly to the American Red Cross.
For those wishing to support the Coldwell Banker effort specifically, you can join Coldwell Banker Cares by making donations directly to the Anywhere Disaster Relief Fund. Anywhere Gives will match all contributions up to $50,000.
Through the Anywhere Disaster Relief Fund, you can provide tax-deductible donations directly to Coldwell Banker employees, franchisees and independent sales agents impacted by federally declared major disasters and who lack coverage from personal insurance policies. Through the Fund, colleagues can pay for emergency-related costs, such as significant home repairs or lost possessions. 100% of your contribution will go to help those affected.
How to Receive ADRF Assistance
Colleagues impacted by the disaster can receive aid by applying for grant assistance. Applicants eligible for aid include Coldwell Banker employees, and affiliates of a Coldwell Banker real estate brokerage office including brokers, independent sales agents or employees. For consideration, the applicant must occupy one of the following counties declared a major disaster by the federal government:
Charlotte
Collier
DeSoto
Hardee
Hillsborough
Lee
Manatee
Pinellas
Sarasota
To apply for assistance, visit here.
Share Your Stories
If you plan to help the Coldwell Banker network impacted by Hurricane Ian in any way, please share your CB Good News stories here. We will continue to update this story to showcase the Gen Blue network's efforts.
Subscribe to Blue Matter and get the latest updates